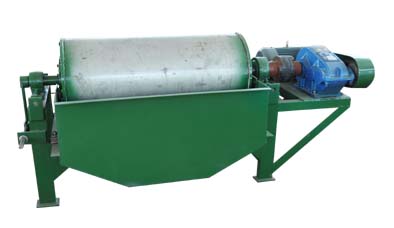 CT Series Wet permanent magnetic separator
1. Overview
CT Series Wet permanent magnetic separator is mainly used for waste disposal, steel mills and other industries, it has a strong magnetic field, suction, good separation efficiency, easy maintenance. Magnetic cylinder with double stainless steel design, more effective protection of the magnetic roller, wear serious, easy to replace.
2, the main principle
Sorting material from the feed inlet and mixed with water, flowing into the separator tank, when the ferromagnetic material flow through the magnetic separator drum magnetic field region, are adsorbed on the surface of the drum by a rotating magnetic drum with the ferromagnetic material the magnetic field region, by flushing water into the mouth fine iron, iron to achieve the purpose of the election.